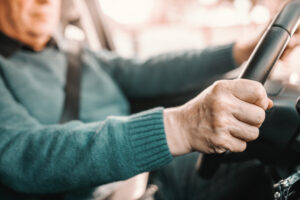 As life slowly starts returning to normal, the roads are more dangerous than ever. More people are going back to work, more people have places to be, and more people just want to get out of their homes. Add to that the constant texting and driving, it makes for a scary situation. For the elderly population, it is especially important for them to think twice before getting behind the wheel.
While age alone may not be a reason to give up driving completely, age-related impairments in vision, declines in cognitive and physical functioning, and the side effects of various medications contribute to increased dangers while driving. Not only that, but elderly drivers are more prone to serious and potentially life-threatening injuries if they were to be involved in car accidents. According to the CDC, drivers ages 70 and older have higher crash death rates per mile than middle-aged drivers (ages 35-54), most notably due to the increased vulnerability to injury in a crash.
Massachusetts Requirements
Some states require elderly drivers to pass certain vision exams or complete periodic driving tests. However, Massachusetts basically just relies on elderly drivers to self-determine if they should continue to drive, which may be a difficult decision to make. In Massachusetts, the DMV requires drivers 75 and older to renew their license in person and accepts tips from interested parties to conduct unsafe driver investigations, but there are no vision or driving test requirements.
Resources to Help
Since this is an area that requires a lot of autonomy, having these hard conversations with your loved ones, or doing self-reflecting on your own driving is extremely important. They may view it as a loss of their freedom and independence, and it's helpful to have the right resources to ease this transition. These may be difficult topics to tackle, but at the end of the day it will keep the road a safer place for everyone involved.
Caring.com has created a helpful and informative guide to help with those transitions, and help your family tackle this difficult topic. Click here to learn more about the difficulties of driving with age, how to talk to an elderly loved one about driving, and how to help a senior transition from driving.
Law Offices of Robert D. Ahearn
Contact Us for Help
As always, if you or your loved one has been injured in any sort of auto accident or due to the negligence of another, we are here to help. We have over 32 years of experience in personal injury law, and we are here to ensure that our clients get the best care and attention that they deserve.
Our initial consultation is completely free, and you pay nothing unless we win your case. Give us a call at 617-773-8890 and we will discuss your case and the options available to you, all completely free.
Caring.com
Caring.com is a leading senior care resource for family caregivers seeking information and support as they care for aging parents, spouses, and other loved ones. They have been featured in AARP, The Administration for Community Living, The National Legal Resource Center, and Forbes. Their mission is to help as many seniors and caregivers as possible through empathetic and expert guidance.